Here is another dodgy agency scam still operating which makes you pay $190 for a supposed job or casting. Wrong and fake!





IF IT SOUNDS TOO GOOD TO BE TRUE IT USUALLY IS... more scams we have seen.

Scenario 1.  Someone offering you an easy $1000 for a few hours in front of the camera in a hotel room.
Scenario 2.  They want to do a Skype session to cast you for a big role.
Scenario 3.  Company wants to fly you overseas for a big TV commercial - $4k for 2 days work.
Scenario 4.  Top pro photographer wants to do a TFP shoot with you to submit for an International magazine.
THE TRUTH:
1.  At rates like that they have the pick of many top agency models, so why you… and in a hotel room? What shots can you do there other than some bedroom pics. Your alarm bells should be ringing, so don't be pressured.
2.  Professionals do not cast over Skype. This is only used for legitimate meetings or when already known. This is a tactic of fakes to get you naked, while some even video the session and blackmail later.
3.  It will cost them much in airfares, accommodation, etc, so why don't they use a local model rather than higher costs of one they have never met? Some will even ask you to pay an "insurance" payment before leaving. A total scam trip you will never get to, but they will enjoy your money.
4.  Wouldn't a top pro know models everywhere? Yes we know, they say you are perfect for it, or the next big thing. Seriously, there must be something in it for them. Usually this turns out to be a sexual adventure for some fraudulent creep. We have exposed several!
If No4 is indeed legit, then have them sign a model release form to protect yourself in case any shots get used commercially or published. At that point you become entitled to a share in the money earnt.
In this attractive and sexually charge industry, it would have to be difficult for a red blooded male to not be tempted to cross the line, and we've heard of females sometimes being involved too. Even some known long term 'professionals' have fallen apart to exploit females. 80% of the time the pattern is noticed with photographers shooting more and more, sensual, nude or erotic type images. Clearly the temptation gets too strong for some. Shooting around nudes is clearly one of the most risky areas for models.
Specify intentions and look for unusual or inappropriate communication, as this should be another warning sign. And lets break another myth...
A MODEL DOES NOT HAVE TO GET NAKED TO SUCCEED.
Here's another example. Tough to pick for some, but  professionals can help you from becoming a victim.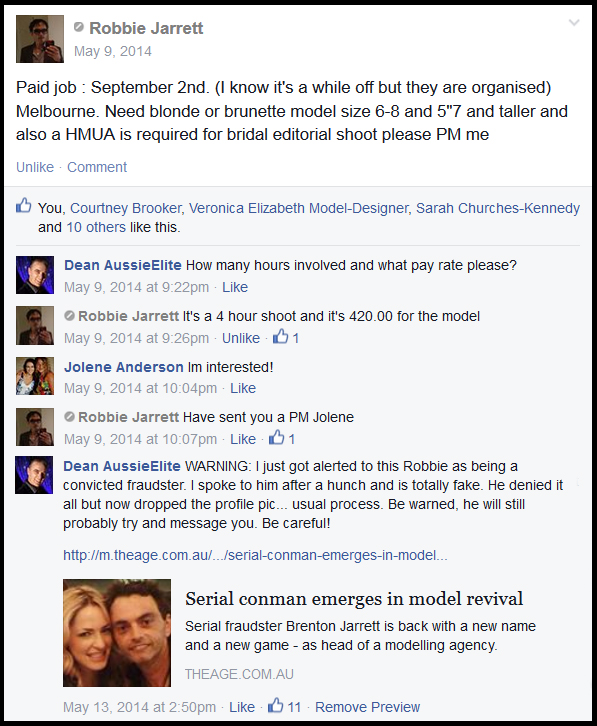 It's not all bad and we don't want you to be scared off. As you gain experience, your warning radar improves, so it's more important than ever to talk to professionals and be supported by an agency or network to protect you.
If you check them out, it seems legit, and are still prepared to go ahead… always bring someone with you. Take care!

- by Dean Marzolla (Industry leading professional)

JOIN OUR SUPPORT NETWORK TO BE PROTECTED.... CLICK HERE FOR THE FREE OR PAID MEMBERSHIP ADVANTAGE

GIVE US YOUR FEEDBACK OR COMMENTS BELOW.  CONFIDENTIAL ENQUIRIES ARE ALWAYS WELCOME VIA EMAIL.