THERE ARE LOOPHOLES FOR MODELS TO BE AWARE OF.
VOLUNTEERS (TFP) - If you do the job as a volunteer (no pay), you are not entitled to anything for being so charitable.
FREELANCER WITH ABN - If you go in as freelancer with an ABN number, you are then operating as an Independent Contractor in business and accepting of whatever negotiated price you agreed upon or was advertised... so cannot really complain later. Fair work laws still apply but it is harder to dispute, so you need to be smart and set fair rates when you take on the job, and remember you need your own Public Liability Insurance, plus pay GST and taxes.
FREELANCE MODEL (no ABN) - Those models with NO business ABN number are legally being employed as a CASUAL model. This means that they are entitled to minimum wages as mentioned below, regardless of an employer offering any old pay rate. You can complain, employers are liable to court action, and you have more rights than a model with an ABN.
MINIMUM Standard casual model rates  (aged 18yo+ models)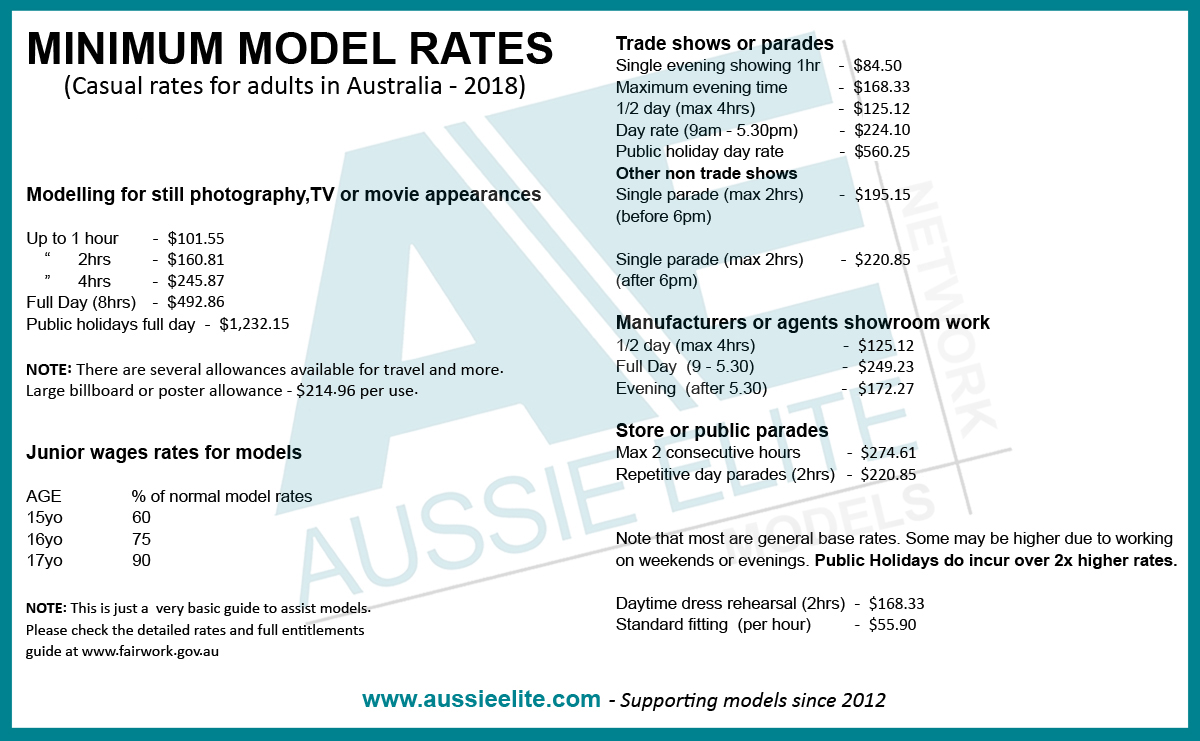 *All content extracted from the Australian Government website - www.fairwork.gov.au 
Consult full website schedule to confirm your entitlements before submitting a complaint. (Mannequins and Models Award 2010 - 'Minimum Wages'  -  'Casual models' section)
http://www.fairwork.gov.au/pay/minimum-wages/pay-guides